Assistance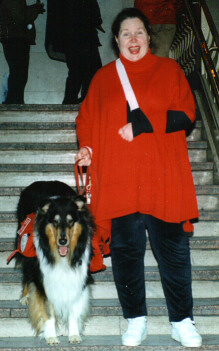 CH & V-CH Kings Valley Select, Reg. Service Dog AWCA Award of Merit "Gentleman Cole" and AWCA President Jean Levitt in Grand Central Station. They are conquering the steps because Cole was trained as "walker dog" in addition to his other service dog duties.
Read more about this special dog:

---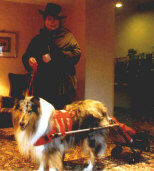 Ch. Marko's Aatuk Blue Austin "Sir Austin" is Jean Levitt's current Service Dog; he is bred by Markos Collies and trained by Jean Levitt. Sir Austin draws his luggage cart through hotel lobbies and airports.


. Sir Austin is serving as a therapy dog in South Africa, which was unprecedented at the time of his visit. Here, the child--afflicted with cerebral palsy--is being assisted to walk by Sir Austin and is being held by her physical therapist. Jean Levitt handles Sir Austin. That is the key to therapy dog work, which is only therapy work (as opposed to social) when it is under the direct supervision of a health care professional with a definite therapeutic plan in mind that is documented by the health care professional. This child had refused to walk and was crying when Sir Austin came into the room. As soon as it was explained to the child that she could hold onto Sir Austin's harness and he would take three steps and stop so that she could rest, she began to laugh and cheer. From that moment, South Africa's health care community determined to employ social and therapy dogs in their health care facilities.
---
Dog Radar, who was bred and donated by AWCA member Vicki Loucks and trained by NEADS (National Education for Assistance Dogs) as well as puppy raiser Chris Bannon and family. Clearly, many people contribute to the success of service dog teams.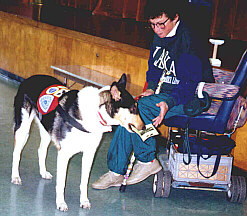 Radar retrieves for Merle.
---