Public Relations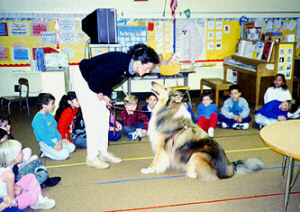 Bellvue's Broadway Trouper CD HC TT CGC VC (TDI certified) (deceased). "Trouper" and Jan Wall are doing a pet care lesson for a kindergarten class. He was owned and trained by Janet Wall.
---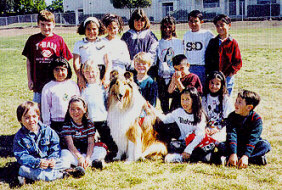 Graymor's Pot O'Gold CGC TT (TDI certified) "Cody" poses with a second grade class where he works daily in the humane education curriculum. He is owned and trained by Janet Wall.
---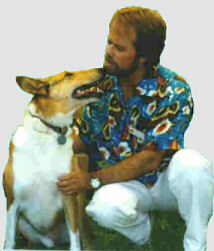 Storm's Wicket Raven CGC HIC NA NAJ "Kallie" worked at the 3rd Annual Canine Carnival in Sacramento as the Canine Good Citizen test "friendly dog" (test administered by the Davis Dog Training Club). As a reward, she got to meet Jon Provost (child star "Timmy" of the TV Lassie series and a Board Member of Canine Companions for Independence).
---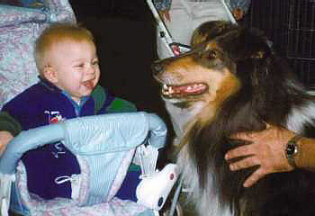 Lad is greeting a baby at the Responsible Dog Ownership Public Education Booth at the Big E Fair in Springfield, MA. He is owned & trained by Pat & Tom Reilly.
---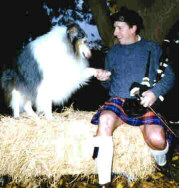 Super Dooper Trouper CGC "Trouper" is a greeting dog at the Scottish Fair.
---